Image source photo: StMWi/Elke Neureuther
Minister Aiwanger visits green drive concept
A new technical approach could revolutionize mobility in the future. The company Gumpert Automobile GmbH is conducting research in collaboration with the Ingolstadt University of Technology (THI) on so-called high-temperature methanol fuel cell vehicles. For this purpose, engineer and company founder  Roland Gumpert is developing a fuel cell kit for transport vehicles, the so-called Gumpert Power Cell [GPC]. 
The vehicle fills up with green methanol at a conventional filling station, which is then converted onboard to hydrogen  for direct power generation. Minister Hubert Aiwanger now also got a personal impression of the project.
Climate-neutral fuels for heavy-duty transport.
MeFuSION research alliance paves the way for innovative production of green methanol and its sustainable use as a fuel.
MeFuSION stands for Methanol Fuel-Cell Supplychain Investigation. The MeFuSION alliance sees the potential to substitute the existing internal combustion engine fleets in long-distance freight transport (trucks, shipping) with regenerative-powered methanol fleets, thereby bringing about a significant reduction in CO2 emissions. The associated CO2 savings potential in Germany alone is immense and would thus make a significant sectoral contribution to achieving the national climate targets.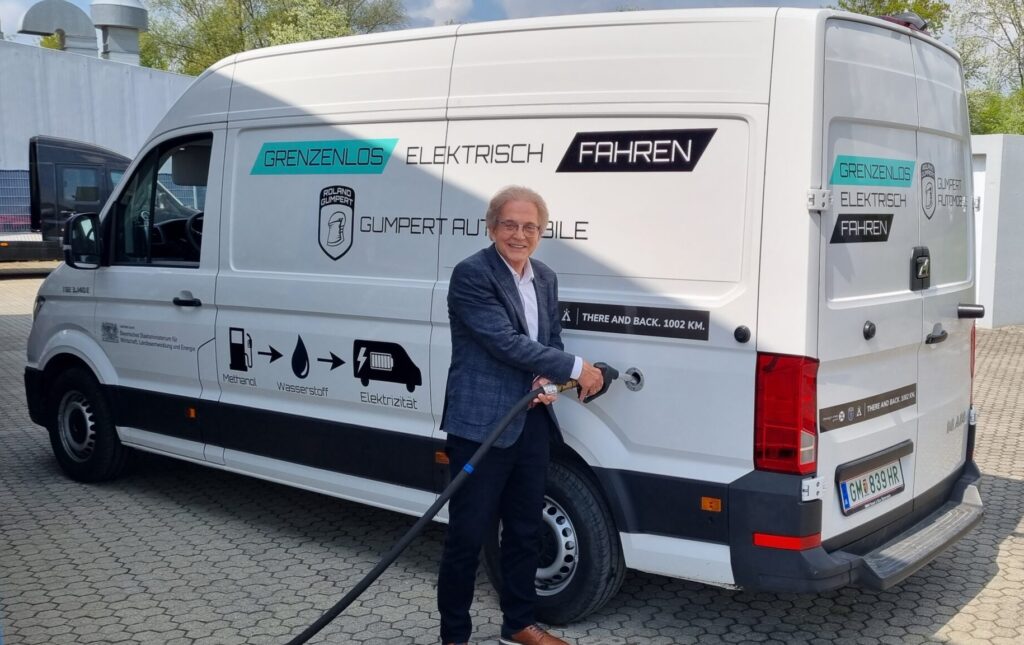 Progress races like a snail in this German way. And yet Roland Gumpert is so impatient! For him, the advantages of fuel cell propulsion are so obvious that he has no doubts at all: "This is the future, and not just on the road." Fuel cells could heat homes, make hot water and generate electricity on the side. The beauty of it, he says, is that carbon dioxide is needed to produce the necessary methanol. "What we currently think of as waste turns into a feedstock that we use to make green methanol." Gumpert calculated what the consequences of a worldwide conversion would be: "If methanol were temporarily stored in all petroleum reservoirs, the whole world would suddenly be carbon dioxide negative." It will be a long way from "Nathalie" to that point. Too much resistance, too little courage for really new technological solutions in the fight against the climate crisis, says Roland Gumpert, who is nevertheless an optimist. "In history, it has always been the case that the better solution has prevailed in the end."
Roland Gumpert is moving forward with his visionary development. He is consistently pursuing the goal of bringing his Gumpert Power Cell to market. And he is confident that his technology will revolutionize the market. That's because he is on track to bring his methanol fuel cell to production readiness – range, emission-free driving, resource conservation and constant charging of the buffer battery while driving, to name just a few of the advantages of his groundbreaking development. And he brings this with conviction to the interested audience at the Graz congress. The need is great – and so are the potential applications for this new technology.